Deer and Car Collisions – What you Need to Know
---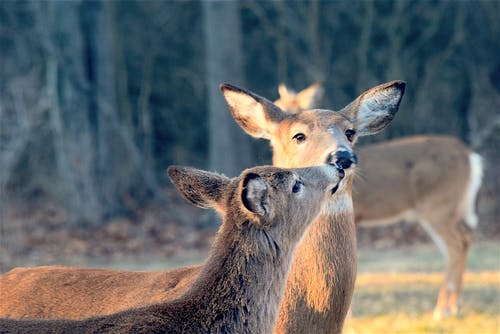 No one ever expects to get hit by a deer, but it can certainly happen, especially this time of year. According to the Insurance Institute for Highway Safety, over 1.5 million deer and car collisions occur every year in the United States. And with October through December being the height of their mating season, deer are very active. They also tend to migrate during this time frame. These factors lead to auto accidents and extensive damage to cars. It is estimated that deer and car collisions cost Americans over $1 billion in vehicle damage each year.
How to Avoid and Handle a Deer and Car Collision
Not only are deer busy this time of year, so are humans. Rushing around preparing for the holidays can cause many to be distracted. When driving during peak deer activity season, the best defense is to always remain alert. Drive extra cautiously through posted deer crossing zones or down back roads that travel through farmland or forests. Be sure to use the vehicle's high-beams when possible. They can illuminate the deer's eyes or alert you to one near the roadway. Many times, those few extra moments of spotting a deer can help avoid a collision.
Keep in mind that deer tend to travel in herds. When you see one, there most likely are more. They usually walk in single file lines. A near miss with one deer is a sure sign to slow down; there may be more. And always wear seatbelts. If a deer and car collision occur, seatbelts just might save a life. According to the Insurance Information Institute, 60% of deaths caused by cars hitting animals were from people not wearing their seatbelts.
Should you find yourself in a deer and car collision situation it's best to remain as calm as possible. Do your best to stay in your lane, even if that means hitting a deer. Many times the instinct is to swerve, but then you may move into the path of another vehicle or lose control of yours. Hold on tight to the steering wheel and apply the brake firmly. Newer cars are equipped with anti-lock brakes and airbags to help keep people safe.
Are you covered in a Deer and Car Collision?
The aftermath of a deer and car collision can be a headache. The good news is most likely your auto insurance company will cover your auto repair expenses minus your deductible. If you have comprehensive coverage, damaged caused by hitting an animal is typically covered. Keep in mind though; should you swerve to miss a deer and hit a tree or another vehicle, collision coverage would be needed to cover those expenses. In each case, the car owner must pay their deductible first. Usually, comprehensive coverage rates do not increase when an animal has damaged a car.
How to get back on the road
The Insurance Information Institute estimates the average cost of deer and car collision insurance claims to be over $4000 (2015). These large animals can undoubtedly cause a lot of damage. The good news is that many vehicles can be repaired and these repairs are often covered by insurance. Barbosa's Kustom Kolor located in Parkville, MO is an Auto Body Repair Shop that has repaired many deer caused car crashes. They have the experience and knowledge to fix your vehicle the right way and paint the repairs to match. They'll help work with the insurance company to make sure you receive the correct compensation payment. You won't find a more dedicated and honest company ready to get you back on the road. So if you find yourself with a busted up vehicle due to a collision with a deer, call (816) 741-6348 or contact Barbosa's Kustom Kolor online today.