Hail is defined as balls of irregular lumps of ice called a hailstone. Ice pellets are usually found in cold weather. Hail and ice pellets are both damaging to the exterior of a car. Hail can measure between .2" and 6" in diameter. Also, hail is usually accompanied by strong upward air motions paired with a thunderstorm or tornado with lowered heights of the freezing level. Hailstones will fall at faster speeds as they grow. Reports have put the speed of falling hail at 120 mph. Furthermore, hail damage affects homes, buildings, crops and of course, cars.
Reports of Hail in Kansas City by year: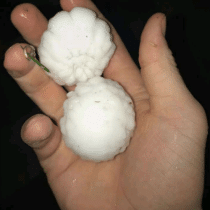 • 2014- 12 hail storms
• 2015-3 hail storms
• 2016-22 hail storms
Read more about what to do in a Hail Storm!
Insurance Coverage for Hail Damage Repair
Customers should check the car insurance policy or call the insurance agent. Comprehensive coverage will include hail damage repair. Hail can shatter car windows, the windshield, and dent the roof, doors, and body. Most insurance policies carry a comprehensive deductible. This amount can be anywhere from $50-500. Check the policy or call the insurance provider to find out how much the deductible is for Hail Damage Repair. Also, some policies offer a full glass coverage or may waive the deductible if the cars' glass can be repaired instead of replaced.
Repair A Hail Damaged Car
If a car has dings and/or broken or cracked glass from a hail storm, call Barbosa's. We will explore the options for fixing dents caused by hail with PDR. If the damage is more extensive and body work is required, we work with insurance companies to ensure damaged cars are fixed as good as new. Hail storms can keep our body shop pretty busy, but we always take care of our customers. If the car is drivable and you can wait a few days, note the date of the storm and take photos of your car. Next, give us a call and we can schedule an estimate and start the paperwork with your insurance company. Our body shop will make sure the hail damage repair is done correctly and as quickly as possible. As professionals, we never rush our work and we never sacrifice our level of service!
Your body shop for Hail Damage Repair is Barbosa's Kustom Kolor! Call or contact us today!