Auto BODY shop in Parkville
Our Auto Body Shop can take a damaged vehicle back to pre-damaged condition. Structural damage is another component of auto body repair, and because it can't be seen, like exterior damage can be, it is often diagnosed after the initial estimate. The structure of the car holds the exterior components of the car in place. There are instances when the engine is also part of the repair process. If the car requires engine work, we remove the engine. At Barbosa's Kustom Kolor we usually don't do that much engine work but we certainly can!
3 Things to look for
Honesty. You want to be confident that you are getting what you paid for. If you work with an auto repair shop that is not honest, you won't see the result of dishonest work until time has passed and it will be too late to do anything about the shoddy repairs.
I'm always pleased with the work and the service is excellent. I would highly recommend them to anyone.
We pride ourselves on skilled workmanship. The repair work has to be done right. The repairs need to hold up down the road. Will the care drive correctly? Will the tires wear differently now that the car was repaired? These are issues that a customer isn't thinking about when they choose an auto repair shop. But these are issues that may be a factor down the road if the work is not done skillfully.
Customers need to have trust in the auto body shop they use. Choose a body shop that has an excellent reputation in the community. Pick a shop that stands behind their work. Pick a shop that does what it needs to do to make it right. We recommend doing your homework as a consumer. Investigate the company with the Better Business Bureau. (We have an A+ Rating) Look at reviews. A bad review is not necessarily a red flag, and you may want to investigate how the issue was handled.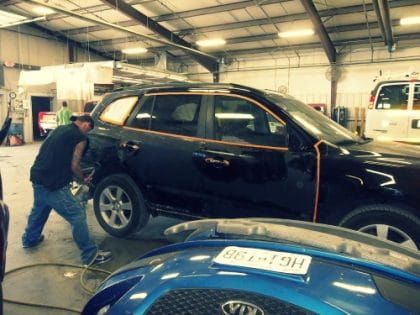 HOW LONG DO REPAIRS TAKE?
The length of time our shop would take to repair your car depends on the size of the repair. A large repair can take up to several weeks. Smaller auto body repairs take only a day or two. Roughly eighty percent of the work we do is insurance-based claims. The other 20% is taking care of our customers with scratch and dent, paintless dent repair and hail damage repair needs.
Barbosa's Kustom Kolor Paint & Auto Body Repair located in Parkville has been skillfully and with honesty providing our clients with the best in auto body repair since 2008. You need your car to get around in life. When your car is in an accident, you want it fixed to look and run smoothly and safely. You can trust us to take care of your vehicle and get you back on the road again.
YOU FOUND A REPUTABLE, RELIABLE Auto body SHOP
An inoperative car, due to an accident or otherwise, is already a challenging situation, you don't want to face any additional concerns about having to find an auto repair shop to fix your car at the last minute. For this reason and many others, it is a good idea to have an auto repair shop picked out before you need one.
Anyone who needs a body shop wants it to go as smoothly as possible. Take a look around our shop. Is it relatively clean for an Auto Repair Shop? You won't see dust or a chemical spill on our floors. Ask to see our work. We're working to add new before and after pictures to our site, and if you stop by our shop we can show you cars we are currently working on.
We are a complete Repair and auto body shop
When a customer comes into the shop with a car that needs to be fixed, the first thing we do is take the time to educate them about the car. Our goal is to keep our customers informed throughout the entire auto body repair process. That includes updating them in the event that issues arise at any step of the process. Most of the changes typically occur once we take the damaged parts from the car.
We not only do auto body collision work, but we also repair cars with hail damage, small door dings with paintless dent repair, scratches or larger dents with scratch and dent repair.
We write our estimates for customers and insurance companies based on what we can see upon visual inspection. The review process does not entail removing parts of the cars' body to fully diagnose the extent of the repair. As we take the damaged exterior apart, there are times when we then see that an issue would best serve the integrity of the car if approached in another way.
We work with your insurance company to get your car back to pre-accident condition. Not your fault? We work with their insurance company too! Your car will look amazing. Not sure what to do or who to trust? You found the right auto body shop today. You found Barbosa's Kustom Kolor.
We are the Auto Body Shop that goes above and beyond. We not only meet your expectations, but we also exceed them. Have questions about your car? Call Rey or Tony today at (816)741-6348.