Paintless Dent Repair is a process of pushing a dent from the body of a car without having to paint the vehicle after. This process, if done correctly will eliminate breaking the paint and removing the cars factory finish.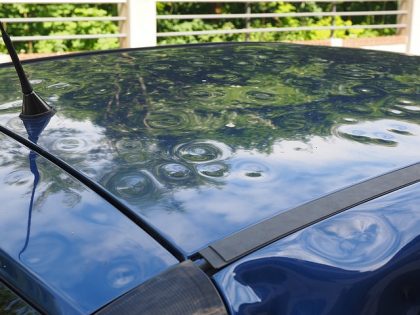 Is Paintless Dent repair difficult?
Paintless dent repair is hard. It is a process, it takes time and the size of the dent matters. It has to be fairly small. The dent can't be on a crease. It can't be on a line. If the dent is located in any of these places, the paint will crack. You may have seen a few mobile or brick and mortar business that specialize in doing only Paintless Dent repair and many of them are very good. We recommend avoiding the "pop-up shops". As they are here for a limited amount of time and then are gone. If the resulting PDR from one of these pop up shops ends up cracking, as a customer, you have no recourse. Unfortunately, the "you get what you pay for" is at play. Cheap PDR may be done sacrificing work integrity. Price should be a consideration in choosing a reliable Paintless Dent Repair shop but it shouldn't be the only consideration. The shop you choose to use should be a shop that you can go back to rectify any problems that may result.
Hail damage and Paintless dent Repair
In our opinion, a shop/ person should have several years of experience for a good result in paintless dent repair. Every dent is different. Car by car, hail damage is very similar. It is round. However, the location of the damage is what can be challenging. The hail damage could be on a panel, or a line or an edge and you can still push it out but doing so could crack the paint. Generally, most hail damage is repaired using PDR.If the hail damage repair that is too much and the panel then needs to be replaced. There are cases where a panel has too many small dents and the decision to replace the panel is done. PDR will bent and stretch the panel too much resulting is a loss of integrity.
Hail damage and insurance
Most insurance companies will cover hail damage repair. Insurance companies also prefer Paintless dent repair. Roof repair is best done with PDR as replacing a roof can't equal the factory's structural integrity of the roof that is on the car. The main concern for Barbosa's Kustom Kolor is maintaining the structural integrity of the car at every turn. Every dent is evaluated and the decision to use PDR or replace a panel of a car is always made in favor or preserving and maintaining the integrity of the car.
Barbosa's Kustom Kolor should be your choice for Paintless Dent Repair and Hail Damage. We've been in their location since 2008. We come to work every day to serve our current and future customers. The goal is to take care of people and cars so we are comfortable running into them anytime and anyplace. Call us today at (816)741-6348.