car painting is a skilled process
The process for car painting or car paint repair depends on the amount of the car that needs to be painted. A car involved in an accident may have many auto body repairs. Barbosa's car paint shop executes the following process: the car body is primed, blocked (using a hand sander, which has a stiffer weight, the area is kept straight to avoid waves in the paint) and then sanded. Next, it is checked for imperfections. The car is then sealed, painted and polished. Lastly, it is washed and presented for delivery. The process may seem simple but it takes time. And more importantly, car painting takes attention to detail and skills. The quality of these two items will always make a difference between good car painting and excellent car painting.
We only paint what we need to paint
Barbosa's Kustom Kolor uses the PPG Paint System Waterbourne car paint. PPG is an environmentally safe, water-based paint. As a car paint shop, our goal is to use paint that takes the isocyanates out of the process. PPG Car Paint meets these goals. Other car painting products create gasses in the process of paint repair. Because this paint is water-based, there are no gas vapors. The transfer efficiency of color to the car is much better with PPG Automotive paint. PPG Paint, when applied, does not float into the atmosphere but adheres to the surface of the car. To dry the paint, we apply air blowers and not heat. We believe this process is best for the car and the environment. As a car paint shop, our commitment to being as environmentally responsible as possible extends to many processes in our shop, and not just car painting.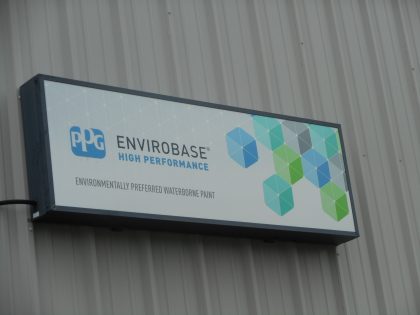 If your car has been in an accident or a fender bender, our intention is to paint as little of the car as we can. Barbosa's primary goal is to keep as much of the integrity of the car as possible. That includes the paint. The car's original factory paint and the clear coat is going to hold up much better than car painting/paint repair that is done. With that said, there are times when painting a car is unavoidable. The paint and clear coat that is applied by the factory was done robotically. Obviously, auto body repair shops apply paint manually with smaller equipment. Our shop is no exception. Our car painting process involves matching the car paint and determining if the paint needs to be blended toward the adjacent panel to get the perfect color to match for the car.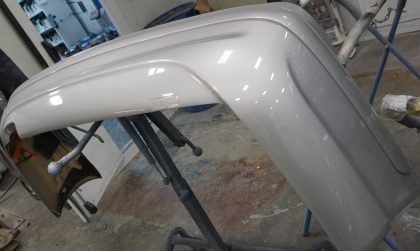 Car paint shop with aTTENTION AND SKILL
The bottom line is the original paint on a car is the best a car can have. In the event that a car has been in an accident and has incurred enough damage to need car paint repair, Barbosa's skill and attention to detail will be second best to the original car paint.
How good is a $129 paint job?
If you want your car's paint repair to last and are looking to protect the integrity of the car, we do not recommend painting an entire car and paying $129 to do it. How do they paint a car for $129? They buy paint in bulk. This process involves washing the car, taping off the windows and wheels and then shooting the car with paint. The sanding and scuffing components of the car painting process do not take place. This process will result in a chipped and peeling paint job. In the end, you will need another to have your car painted again. This price point is attractive to some. Be aware that the car paint used in the low-cost car painting process will not last, and the results will eventually look bad.
We use PPG Car Paint for repair on scratches and dents, Paintless Dent Repair (PDR), Hail Damage Repair and car accidents. Call (816)741-6348 to talk to us about your car paint repair needs.
You can also use our Request an Estimate form. When filled out accurately and with good quality photos, we call and give you an estimate over the phone.